Ever since we had adopted our new travel style of no research but go by feel, a lot of interesting people had come into our lives. One such person had just finished her travels through Myanmar and we crossed paths in the hostel we stayed at. This hike, from Kalaw to Inle, was highly recommended by her. Hearing the same story from a couple others as well cemented our decision to try it out. We bought bus tickets, VIP this time, to take us from Yangon to Kalaw
The bus ride was bumpy. And the wide leather seats didn't help much to lessen the impact of the road. Sleep was a luxury, and after 2 precious hours of it, we were let out at 5am in the town of Kalaw. Not having any idea of what to do we looked around to see 5 scraggly travelers looking around back at us. One of them had a reservation at some hotel. So we all traipsed behind him. On getting there, we asked for treks to Inle, and told there was a guide that would essentially carry our bags and not much else. Thankfully Jodee remembered she had the business card of the agency originally recommended to us.
We contacted them, a Rambo Singhh at Jungle travels! He turned out to be the most mild mannered person we had ever met. However for the princely sum of 40$ a person he quickly arranged for us a 2 day 1 night trek to Inle. They also do 3 day hikes but 2 were enough we felt. The 3 day is the full hike. The 2 day has them take us in a tractor-taxi for an hour and drop us off so the walk will cover less distance.
The hike included a guide who spoke English, all meals, a ride to the point where the walk starts and an overnight stay at a monastery! And they carry the majority your luggage to the final destination so that you can hike with just a daypack.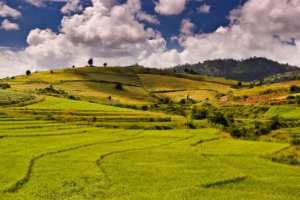 The hike was pleasant, the scenery, well I told you about it already. The stay at the monastery is pretty cool. I'm writing this blog at the monastery right now. There are a group of young monks playing football pretty hardcore outside. Some younger kid 'novices' glued to a tiny DVD player watching "Enter the Dragon"(!) and some late twenties monks gathered around a table chatting. The place is rustic and elegant. After dinner. We headed to bed. Time to rest. I'll continue tomorrow after the hike ends…
Continued here.