"To see a world in a grain of sand,
And heaven in a wildflower
Hold infinity in the palm of your hand
And eternity in an hour"
– William Blake
These words trickled into my consciousness as I gazed awestruck and dumbfounded it at the massiveness of the beauty that lay before me. The landscape vista of the Shan State of Myanmar is, in a word, breathtaking.
It is a microcosm of landscapes from many different places. There are rice paddies, stalks swaying in the wind. Sunflower fields, each plant straining upward as if the sunlight just wasn't enough to drink in. Sesame fields, bright yellow patches on a cheerful plain. White radish fields. The rich, bold, rust color of freshly plowed mud, ripe to welcome a new crop. There are farmers working, the happy screams of kids playing. Cows grazing lazily, slowly lifting their heads to look at passing travelers, losing interest in a few moments, and contentedly settling back to their task of mastication. Birds chirping, responding to each other's tweets almost forming a symphony.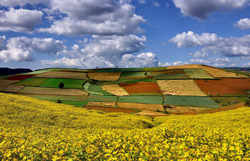 Forming the backdrop to this gentle cacophony are the hills. The majestic, lumbering hills. Grass covered carpets forming undulating waves, pierced intermittently by sharp, intensely tall, imposing rock faces; A forest of trees casually jutting out from them.
It was a scraggly version of the Salzburg countryside, blended with an uneven version of the rice paddies found in Ubud, sprinkled with a toned down scene from a Rajasthan village, wrapped around by the mountains of Colorado.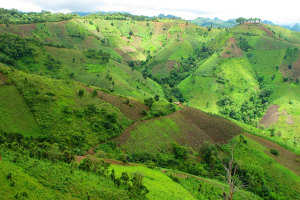 Were they the best mountains I had seen? No. The best rice fields? No. The best avian symphony? Not nearly. It was not the best of any one thing. But somehow, in strumming it all together, it was the best of everything.
In case you haven't figured it out yet, I was in awe of the Shan countryside. Jodee was in awe of it. In fact, every person that walked with us on a 2-day hike from Kalaw to Inle lake was in awe of it.
The whole story began, as such things are often wont to do, with a chance encounter with a stranger, a fellow traveler in Yangon.
To be continued…