Hvar, one of the bigger islands off the Croatian mainland, has been getting some media attention lately as a tourist hot spot, and for good reason. The island itself is gorgeous.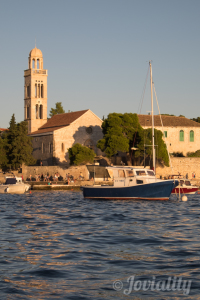 It has luxury accommodations, luxury weather, and lots of options to Party. Apparently it is also a Mediterranean getaway for the rich and famous. A waiter told me that once this ginger haired guy in flip flops came and got coffee and left, and shortly after there was a commotion there as someone recognized that that was Prince Harry!
I was quite taken aback on reaching the island. Never have I seen such a display of wealth in Yachts as before I saw Hvar. For instance I'd never even seen a "SuperYacht" before.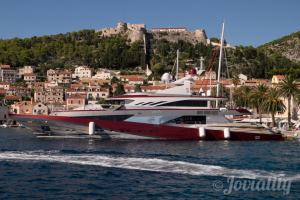 But after seeing some of these floating feats of engineering luxury gently lapping against the docks of Hvar, I quickly did some window shopping to see how much a toy like that would set me back.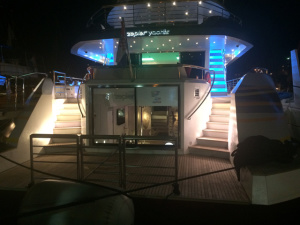 First, I see there's an entire website that's like an amazon for super yachts. Then, I see the prices. The cheap ones go for about 12 Million dollars, and I saw ones uptil 66 Million Dollars! If you're complaining about Real Estate prices in San Francisco, try getting yourself a little floating Studio of about 800 sqft.
After getting sticker shock for something I didn't even want, as Jodee and I were walking around we see a small sign advertising motor boats for rent for quite cheap… Sometimes we do these experiments with ourselves. One experiment we were running there was 'First Thought Best Thought'. Which is to express the first thought that comes into our heads, without filters. You should try it sometime. It's fun! So I had a thought of, 'It'll be fun to take a boat and pilot it out', followed by a flood of 'Oh no, too dangerous!', 'You've never done it before', 'Don't be stupid', et. al. You know, the peanut gallery. But since the first one was to take the boat out, I said that to Jodee. She lit up, and said we should do it!
And so it came to pass that we find ourselves talking to the boat renter.
"Do you have a Boat License?"
"Nope"
"Have you ever driven a motor boat before?"
"Nope"
"Hmmm. Ok, we'll give you the smaller boat. And a lesson in how to drive it"
"!!!!!"
The lesson was all of 45 seconds long. Essentially he grabs the motor stick (the handle that protrudes from the motor) and says.
"Clockwise fast. Anti-clockwise slow. Left to go right. Right to go left. Ok, off you go"
That was it. Donning life jackets, we were off piloting our first ever motor boat!
If you ever want to know how big a wake a super yacht has as it ambles its way across the harbor, try being in a tiny little boat in the wake's wake. Everytime a yacht passed by, our boat was rolling uppppp and downnnnn so hard I was screaming for my mother, for god, and for anything and everything with my eyes closed. It was probably one of the scariest experiences I have had in my life
The initial plan was to go out of the harbor and visit the neighboring islands. But I was so scared being thrown around by the waves (did I mention I hadn't yet learnt how to swim?!) that we decided to putter around the island to the other side, staying close to the coast in case the boat capsized.
When we got out of the big yachts, we managed to catch some good pics of life on Hvar:
We made it back to land safely, and without sinking back (hence why this blog got written. I dont know if there is internet at the bottom of the ocean). So we treated ourselves to an awesome dinner of, yep, italian food (which is what you mainly get in Croatia unless you wander away into the un-touristed inland villages). the food was good, and the view from the restaurant, breathtaking…
To see more pictures of Hvar, as well as the other islands we visited, check out our Croatian Islands Photo Album here!